Geauga Skywatchers is gathering of astronomy enthusiasts founded by a collaboration of organizations interested in promoting scientific thinking to the young and young-at-heart through the study and practice of astronomy.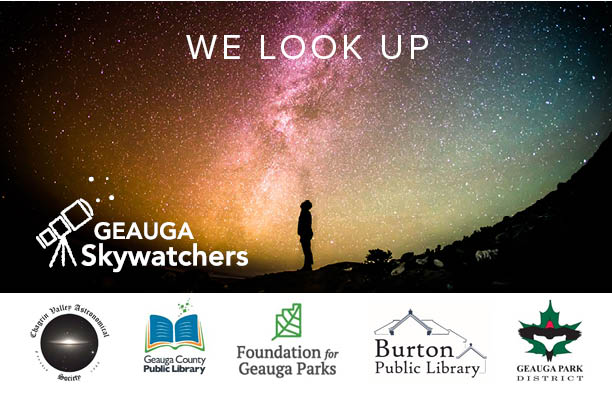 The Foundation for Geauga Parks is pleased to be the fundraising arm for the Geauga Skywatchers Club, established in 2019 through a collaboration of organizations, to provide tools and training to aid members in the practice of astronomy.
Thanks to generous supporters to the Foundation, telescopes are now available for check-out from all Geauga County public libraries.
To borrow from Geauga County Public Libraries, click here.
To borrow from Burton Public Library, click here.
The club hosts monthly meetings at libraries and Geauga parks. Activities are designed for grades 6 through 12 learning level, but interested adults are also welcome to participate. Many local experts and their sophisticated equipment are on board to help teach the wonders of the universe while honing skills in mathematics, engineering, optics, observing, reason and critical thinking, to help bright minds shine with the light of new knowledge, and inspire the next generation of working scientists by "Looking Up!"
For details about club meetings or borrowing a telescope, check partner websites.
Collaborators are Chagrin Valley Astronomical Society, Geauga County Library System, Burton Public Library and Geauga Park District.
Skywatching through the Year
Photo courtesy of Gus Saikaly showing (right to left) Jupiter, Mars, and Saturn, looking southeast. | June 2020
There are a number of resources available to help you be on the lookout for the happenings in night sky. Here are a few of our favorites. Keep Looking Up!
https://solarsystem.nasa.gov/whats-up-skywatching-tips-from-nasa/
https://www.space.com/39231-top-skywatching-events-this-year.html
https://www.smithsonianmag.com/science-nature/ten-biggest-celestial-events-night-sky-2020-180973956/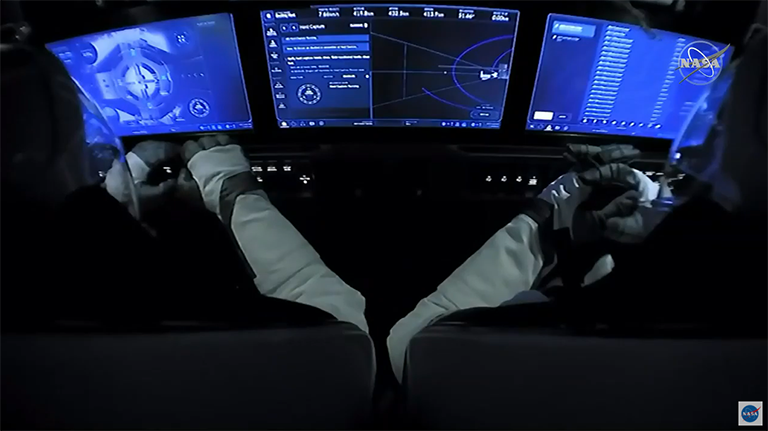 Photo courtesy of NASA | Article submitted by Chris Mentrek, Geauga Park District naturalist
Human Spaceflight
Ever since the American space shuttle fleet was retired in 2011, all human space travelers to and from the International Space Station (ISS) have relied on Soyuz capsules launched from Kazakhstan. (That's how astronauts Jessica Meir and Drew Morgan just returned from the ISS in April.) The goal of NASA's long-brewing "Commercial Crew Development" program has been to see NASA hire business to ferry astronauts to and from the ISS via NASA's bases in Florida.
It has led to a sort of 21st-century "space race" between two companies: Boeing, with its Starliner capsule, and SpaceX, with its Crew Dragon capsule. In June, a clear winner emerged: a Crew Dragon capsule named "Endeavor" delivered astronauts Doug Hurley and Bob Behnken to the ISS. They've joined Chris Cassidy, Anatoli Ivanishin, and Ivan Vagner for the summer; if all goes according to plan, Bob and Doug will return to Earth later this summer, and a new crew of three astronauts will launch in August.
Boeing's Starliner capsule, meanwhile, has been plagued by technical problems; and will still be making un-crewed test flights for the foreseeable future.
The foot-ball-field-sized International Space Station reflects a LOT of sunlight back to Earth, which makes it a great sight for skywatchers! There are a zillion websites and smartphone apps that will deliver information from NASA about when you can expect to see the ISS pass overhead; my personal favorite is the website Heavens Above, which also lists plenty of other satellites of interest.
Since spacecraft move about more than natural objects, it can be tricky to forecast overflights accurately more than a few weeks into the future. However, it looks like northeast Ohio is due for some bright, pre-dawn ISS passes in late June!
Satellite Launches
In addition to becoming "the Uber of spaceflight," SpaceX has been busy with a self-funded project called Starlink. The company's plan is to deploy between 4,000 and 12,000 communications satellites in low orbit, which will sell internet access to Earthlings who are beyond the reach of the planet's current network. (For comparison, only about 9,000 satellites have ever been launched in all of history.)
The Starlink launches began in 2018, and typically deliver about 60 satellites per launch: SpaceX launched another 60 satellites on June 3, and has a second launch planned for mid-June.
The Starlink satellites create a distinct "string of pearls" reflection when viewed from the Earth; it's a sight that's worth experiencing. You can use the link to Heavens Above to learn about viewing particulars once the launch has taken place.
Filling the sky with thousands of glittering satellites hasn't been without controversy, though: they've interfered with astronomical observations, and forced the European Space Agency's Aeolus satellite to take evasive action. Does the promise of low-cost internet access for the underserved outweigh the risk of a cluttered sky? It's a fascinating debate!
---
MORE PROJECTS